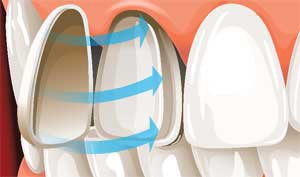 Porcelain veneers are a very popular method of correcting and cosmetically enhancing your smile. Veneers can be successfully used to correct any of the following problems:

Spaces between the teeth (diastemas)
Broken or chipped teeth
Unsightly, stained or washed out fillings
Permanently stained or discoloured teeth
Misshapen or crooked teeth
Whiten dark yellow or stained teeth

Porcelain veneers are very thin and bonded on the front of your anterior teeth. Dentists use some of the same techniques to bond plastic resins to correct minor smile imperfections. Porcelain veneers are about 0.3mm to 0.5mm in thickness but are very strong once bonded to your natural teeth. They have a "lifelike" appearance with the strength, beauty, and durability only porcelain restorations can accomplish.