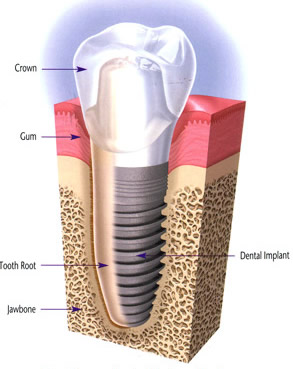 A Dental Implant is an artificial tooth root that an oral implantologist places into the jaw to hold a replacement tooth or bridge. Dental implants are made up of a small titanium screw that serves as replacement for the root portion of a natural missing tooth. Dental Implants are also used to replace one or more missing teeth and are good options for those people who have lost a tooth due to periodontal disease, injury, failure of endodontics or some other reason. Dental Implants are more teeth saving then traditional bridge works because implants do not rely on neighbouring teeth for support. An implant offers several advantages over conventional treatment options.
Functions of dental implants

Dental implants can replace one or more teeth without affecting adjacent teeth.
Provide support for a denture, making it more comfortable and secure.
Support a bridge and as a result there is no need for a removable partial denture.